Ape Shifter // Ape Shifter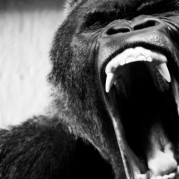 – Titel: self-titled
– Formate: CD, digital
– VÖ: 24.03.2017
– Label: Brainstorm Records
– Vertrieb: Rough Trade
– Website: www.ape-shifter.com
– Facebook: www.facebook.com/apeshifter
– Management/Booking: www.maximumbooking.com
It was a cold, dark day when the fire burned high and the simian shadow raised his hand through the smoke in solemn praise and exclaimed: "It is time for instrumental rock!"
Progressiver, lauter Instrumental-Rock, so kurz und bündig beschreiben Ape Shifter ihren Stil. Die Wahlallgäuer spielen eine Extraportion energetischen Rock. Nach vielseitigen Aktivitäten hinter verschlossenen Türen und dem Strippenziehen im Rockzirkus hinter den Kulissen bedröhnen Ape Shifter nun endlich wieder die Bühnen dieser Welt: Im Frühjahr erscheint endlich das erste Studioalbum von Ape Shifter. Hier präsentieren die "Best Ager" exklusiv ihren Instrumental-Rock, der fette 70er Riffs, Punkrock-Geschwindigkeit und Melodie in Perfektion kombiniert.
Bandleader Jeff Aug wurde an einem Freitag, den 13., in Washington D.C. geboren und wuchs in Laurel/Maryland auf. Er ist ein cooler Underground Gitarrist, der seit über 18 Jahren im Voralpenland in Bayern lebt. Seit 2002 ist er der Gitarrist von Anne Clark und tourte bereits mit Allan Holdsworth, Soft Machine, Alex Skolnick, Carl Verheyen und vielen anderen. Jeff spielte mit seiner alten Band Shows mit Jawbox, Ice-T & Bodycount und Shudder To Think. Er arbeitete weiterhin mit John Stabb von Government Issue und ist außerdem seit über 20 Jahren auch solo unterwegs. Jeff Aug ist auch auf dem Atari Teenage Riot Album "Is This Hyperreal?" zu hören und ist außerdem zweifacher Guinness™ Weltrekordhalter in der Kategorie "Most concerts performed in different countries in 24 hours" (2009 und 2012)!
Nach drei Alben mit seiner Band Sorry About Your Daughter, einem Album mit seiner Punk Rock Band Banana Peel Buzz sowie weiteren acht akustischen Gitarrenalben präsentiert uns Jeff Aug nun seine neue instrumentale Rock Band: APE SHIFTER!
"Ape Shifter ist aber 'ne verdammt geile und authentische Rockkapelle – die grooven echt geil ab. Gefällt mir…" – Sven Borges (With Full Force Festivalveranstalter)
Line-up:
Jeff Aug, guitar | Florian Walter, bass | Kurty Münch, drums
Links:
APE SHIFTER Live Clip: https://youtu.be/LqE5iatY7uU
APE SHIFTER "Sakrotani": https://youtu.be/Hm2SIixr574
APE SHIFTER "Brain-O-Mat" (rough mix): https://soundcloud.com/jeffaug-1/ape-shifter-brain-o-mat-rough-mix
Tracklist:
01 Uhluhtc 03:33
02 Revolution Summer 03:10
03 Desert Rock 03:27
04 Dopamatic 04:27
05 Hot Rod 02:34
06 Verdammt 03:54
07 Dead Tuna Boogie 02:58
08 Ratchet Attack 05:08
09 Sakrotani 03:13
10 Brain-O-Mat 03:47
11 Superhero Helden 02:30
Credits:
Recorded on 09./10.July 2016 by Jürgen Schlachter at 36music in Leipheim, Germany.
Mixed in Winter 2016 by Alec Empire at The Hellish Vortex Studios in Berlin, Germany.
Mastered by Calyx in Berlin, Germany.
Artwork & layout graphics by Chris Lakriz.
This album was recorded live in the studio. There are no overdubs or "punch-ins".
All compositions by Jeff Aug and published by Protozoa Music.
Ape Shifter and Jeff Aug use Hughes & Kettner amplification, Hipshot accessories, D'Addario strings, Planet Waves cables, and Dunlop picks & guitar accessories.  Ape Shifter wear RatRax.